How to get Creative with your Glasses?
There are so many styles available when it comes to prescription glasses and sunglasses that you can only own a few and yet not cover all the quirky varieties.
We want you to treat your eyes to a fun DIY that will not only decorate your glasses but make them stand out creatively, while you enjoy the newness of the same regular frame!
Here are ways you can get creative with your glasses:
What you need?
Fast Stick Glue Pen

Scissors

Cling Film
Note before you Begin:
Works on acetate glasses the best

Works on acetate glasses the best

Wash Glasses Clean and Dry them well
Stars
Decorate the temples to look like designers, place 3 stars with the help of glue starting from the hinge to just about midway to the temple. Get your starry look with ease!
Flowers
Make the most eye catching props to decorate with, use in various colours that you like or just one, go for decorating the brow bar by placing a flower each on the upper rim of the frame accentuating your eyes.
Beads
Most versatile due to the shapes, colours and types you get, decorate the whole rim of glasses or just half, or only the arm rests! Go colourful, or monotone decorate the boho way!
Paint
Hobby plastic paints are available at any craft store in several colours. Before you begin painting your glasses make sure you cover the lenses with cling film to avoid colour spillage. The simplest way is to place dots with the colour bottle neck across the rim.
Make sure to leave on the colour to dry for at least 24 hrs.
Washi Tape
The most dynamic prop in craft history! Easy to use and delectable designs to choose from. All you have to do is peel and stick on. This works best for the temples as gives you more coverage.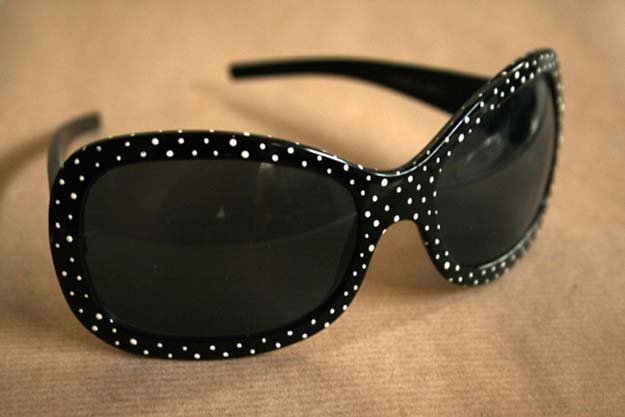 Glitter
Diva like and fashion forward glitter is the trending design this season. Just put glue on the outer rim of the frame, at least a thick layer and sprinkle a lot of glitter all over the frame so that it covers the entire glued part.
Brush it off and a shimmering frame will be awaiting to be donned.
Now that you are experimenting the different ways on your prescription glasses, why not hop online and buy affordable designer glasses online to muse your optical wardrobe furthermore!