Things You Can Do To Look Stylish With Eyeglasses!
Let's admit it; we love getting compliments for our dressing sense and accessories. Similarly, when it is about your eyes, you don't always need contact lenses. A vibrant pair of eyeglasses with quality finish can do a lot of justice. Optically Canada has over 3000 designer glasses online. We have eyeglasses frames in metal, plastic, acetate and titanium that are worth buying. We deliver glasses in the whole of Canada with a price match guarantee.
You can browse through the entire collection of latest eyeglasses and choose the one that matches your face shape and preference. Our 'Try On' feature will help you in making the right decision for buying glasses online.
After when you've bought a perfect pair of eyeglasses or prescription glasses, you can play the dress-up game and experiment with your look. Today, I'm going to jot down few things that you can do to look stylish with your pair of glasses from Optically.ca!
1. Hairstyles
Yes, hairstyle plays an imperative role to let your eyeglasses do the talking. If you have short hair, then cateye glasses will look amazing on you. If you are planning to wear big frames, then make a curly or wavy hairstyle. If you want people to cast an eye over your designer frames, then go for a bun or high ponytail!
2. Eye Makeup
A subtle touch of eyeshadow, mascara or a liner will not only make your eyes look beautiful but will accentuate the look of your eyeglasses as well. Try to use the colour of your eyeshadow depending on the colour of your eyeglass frame. If you are wearing ivory glasses, then go for a bold colour eyeliner like blue. If you are wearing a brown frame, then apply a black colour liner!
3. Hair Colour
Your hair colour can also help you get compliments for your glasses frames. If your hair colour is blonde any vibrant, fresh colour will look good. If you have red colour hair, then go for copper colour frames or black eyeglasses frames!
4. Lipstick
Just like the eye makeup, even the right shade of lipstick will act as a magic wand for your face. For a red colour frame, a nice nude shade will look good, go for glossy shade if the glasses frame is pink in colour!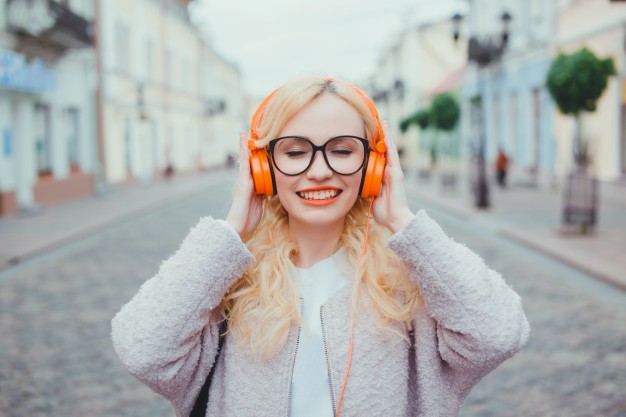 5. Outfit
For every outfit and occasion, there is an eyewear that matches well. If you are planning to buy eyeglasses online for your workspace then rimless glasses, black frames or titanium glasses will suit your formal outfit. If you are donning a pair of shorts and tees and layering it up with a long shrug, then you can use any bright colour frame that will compliment your outfit!
Keep these important things in mind and give your eyeglasses a neatly groomed look. Keep your eyebrows in shape. Choose the glasses frames according to your skin tone. Happy shopping and styling ladies!